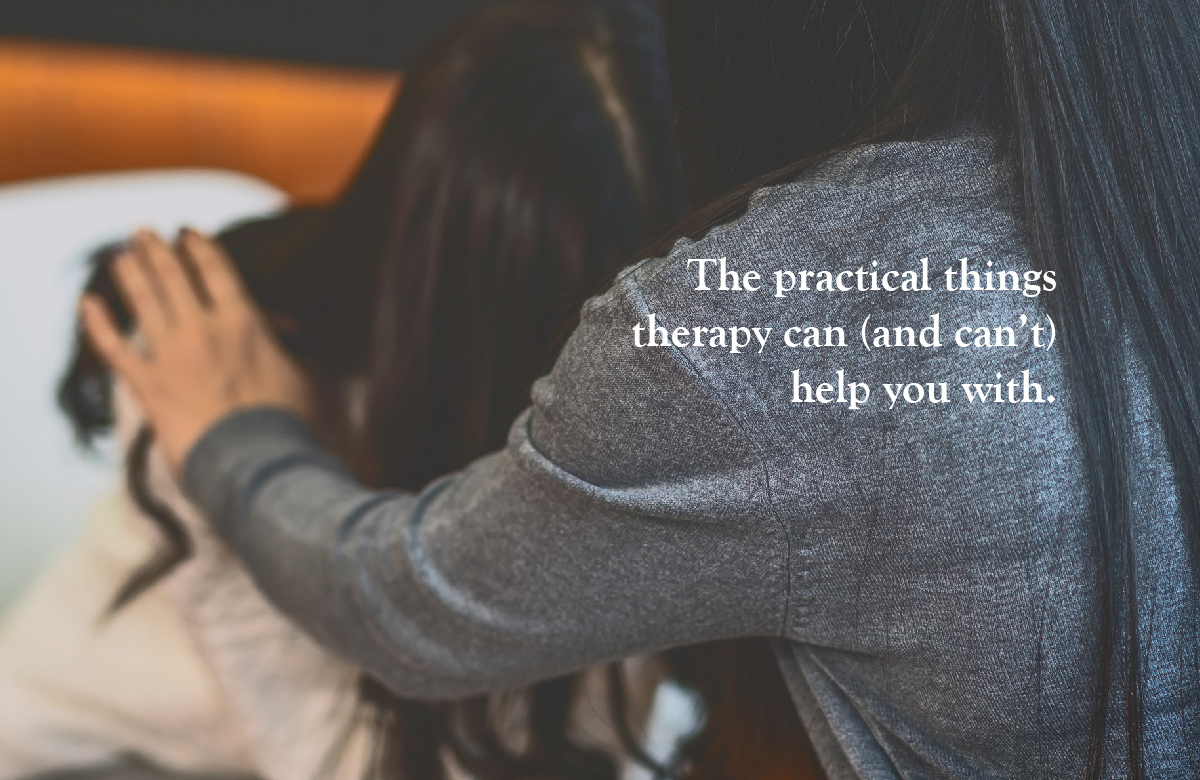 What do therapists actually do for you? 15 Things they can do (and 6 Things they Can't)
As a therapist in Sierra Madre, I often get asked "What do therapists actually do"?
For a clearer picture of how therapy can help, I've listed 15 things therapists can do for you and 6 things they can't.
---
In this post: Sierra Madre Therapist Rachel Engels will answer the question "what do therapists actually do for you." In this post, she lists 15 things therapists can help with and 6 things they can't.
By Rachel Engels, MA, Registered Associate Marriage & Family Therapist in Sierra Madre.
How do you really know whether therapy is helping you? Is therapy just paying a professional "friend" to listen to you?  Will a therapist actually help you solve the problems you have? Will they give you advice? What do you get out of sessions where you talk and the therapist just listens? What is it that therapists actually do to help people?
---
As a therapist, I know that what you expect from therapy can profoundly shape not only what you put into the process, but also what you get out of it.
To help you better understand the possibilities of therapy, I've listed some of the most common ways that therapists can help you, as well as some of the ways they can't.
What can therapists actually do for you?

 
A therapist can:
Help you listen to your life, slow down, and reflect on what's really important to you
Connect themes in your story and help you become more aware of the influences that affect your mood and behavior
Challenge you to think from different angles and help you re-frame issues in a different light, so that you can put a stop to negative thought patterns and make more productive decisions
Support you as you work toward solving the problems in your life
Provide suggestions when appropriate, including tools for improving your thought patterns, your emotion regulation skills, your habits, your health, and your relationships
Help you decide when it's time to seek additional help or services to address concerns that may be outside the scope of outpatient therapy (e.g, medical evaluation, sleep, nutrition, and fitness issues; medication, psychological assessment or evaluation, inpatient treatment, rehab programs, support groups, etc.)
Provide book recommendations and "homework" assignments as appropriate to help you cement and incorporate desired changes in your life
Assist you in making sense of what it is you need and desire most for your own growth and flourishing
Help you understand and overcome your own ambivalence in decision-making
Empower you to develop healthier coping strategies
Help you recognize and interrupt negative patterns of behavior
Facilitate your discovery of new insights, which you can carry into your daily life and use to spark change
Help you learn to articulate and navigate your own needs in healthier and more productive ways
Provide a safe and connective relational experience that frees you to explore issues and emotions you may not have been able to safely do with others
Help you connect more deeply with others in your life and broader community by providing a "practice ground" of genuine relating within the context of the therapy relationship.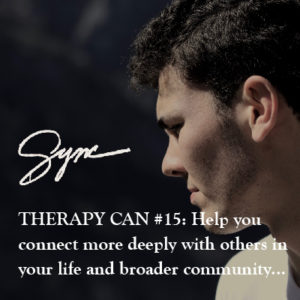 ---
Conversely, here are the things a therapist cannot do.
What do therapists actually do for you?

Here are 6 things

they cannot

do for you. 
Therapists cannot:
1. Re-orient your life in a single session.
Certain types of shorter-term therapies (cognitive-behavioral, solution-focused, and motivational interviewing) are aimed at delivering quick results in just a few sessions. Longer-term therapies like psychoanalytic psychotherapy tend to focus more on addressing the roots of an issue.  Depending on your goals, you may find short-term therapy to be helpful. You may also decide that a year or more in therapy gives you more of the space you need to explore. Whatever model you and your therapist choose to use,  it's rare to generate significant and lasting change in your life from just one or two sessions, so give yourself some time to commit to the growth process.

2. Make decisions for you.
Advice should be given sparingly in therapy, if ever.  It's much less helpful to know what your therapist thinks about a particular situation, or what they would do in their own life, than to discover what makes the most sense for your situation, for your value system, and for your current capacity to handle change.  Your decisions are unique to you, and your therapist can help you best by helping you come to the decisions that best fit with your life.
3. Tell your spouse/partner what to do or think.
If you are coming in for individual counseling, it is your story, not your partner's, that will be the center of focus. If you are coming for couples therapy, your therapist's job is to be an unbiased and balanced presence who will take both your and your partner's contributions and thoughts into account, supporting both of you – and challenging both – when needed.
4. Guarantee that every session will feel equally productive.
In a typical therapy experience, you can reasonably expect some sessions to feel incredibly powerful. Often, sessions can lead you to greater self-understanding. At times you will likely experience a sense of meaningful connection with your therapist. Some sessions may give you a different perspective on challenging situations, or give you the motivation to make meaningful changes in your week.
But you can also expect that you'll leave some sessions struggling to remember what was discussed, or questioning whether the time spent was as productive as it could have been.  If sessions never feel productive, it's time to have a conversation with your therapist about what's going wrong. Usually even the best therapy experiences have occasional ebbs and flows.
5. Give you an exact timeline for how long therapy should last.
Unless there are pre-set limits on the number of sessions allowed (e.g., due to your insurance coverage or to a counseling agency's grant funding), the anticipated length of therapy should be decided in an ongoing conversation between the two of you. Often, the goals that you have for yourself may shift or expand during the process. One of the wonderful things about longer term therapy is the freedom to keep working together, for as long as both you and your therapist agree that the process is benefiting you, you can go on as long as you wish.
6. Do 100% of the work.
Much of what you get out of therapy will be what you put into it. You can maximize the effectiveness of therapy. By coming to regular sessions, by being willing to be vulnerable and self-reflective, and by practicing and applying what you learn.  If you're not getting as much out of therapy as you'd like to, talk to your therapist about ways you might improve the experience together. You can also talk about the ways in which you need clarification on the process.
If you have questions about what therapy might be able to do for you, please don't hesitate to reach out for a free consultation. I'd be honored to hear about your hopes and goals for therapy and to start you down the path of finding a therapist you can connect with, in your area.

You can also have a look at the other therapists or counselors in the Sync community in your area below:
You can find good therapists or counselors in Pasadena, Sierra Madre, Downtown Los Angeles, Santa Monica, and Burbank.